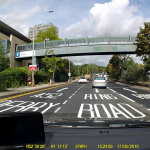 There is a new structure to the lanes leading from Dunkirk Roundabout to QMC Roundabout (which features in one of the test routes from Chilwell).
Previously, there were two lanes from Dunkirk. The left lane led to an entrance to the university only, with the right lane being a slip road to join the Ring Road. This meant having to join the Ring Road and then leave it immediately (to get to the QMC Roundabout).  The new road markings now show the left hand lane as leading directly to the QMC Roundabout (the lane is marked A52 Derby), avoiding the need to join and leave the Ring Road.
My Roundabout video (Number 6) is now out of date and will be recorded again by the end of September.